N° 67 : Loving the Rosary
Newsletter n°67 (17 January 2017)
Dear friends,
Many of you have encouraged us to continue the activity begun in April 2015, the aim of which was to contribute to the celebration of the centenary of the apparitions at Fatima.  Due to lack of time, we have not always been able to reply individually to all those who have supported us and given us helpful suggestions.  We would like to express our gratitude to them, and our most sincere thanks.
We will therefore continue in the same spirit.  There is no longer an objective to reach, as the centenary is now over, but a direction to follow.  We will stay on the same road, or as sailors say, keep to the same course.  This is why the name will remain "Cap Fatima".  We have passed a position on the map of our pilgrimage on this earth and we continue on our route towards Heaven.  On the 13th of June 1917, Our Lady said to Lucia:  "My Immaculate Heart will be the way which will lead you to God", so we will continue our way on this earth with the Immaculate Heart as our guide.  Hence the new citation in the heading of the website:  On the way to Heaven with the Immaculate Heart of Mary.
To move forward, a boat needs motors.  The principal "motors" of our activity will remain:
the newsletter.  For the moment, we will continue with two per month because the Fatima message, as well as its story, is so rich.  We're not short of subjects.
the first Saturdays of the month.  To help us to practise them well, meditations will be joined to each newsletter sent just before the first Saturday of the month.
consecration to the Immaculate Heart of Mary.  The number of those who are registered for the consecration of the 2nd of February shows that there is interest in maintaining this activity, even now that the centenary is over.  (For further details on these last two points see the previous newsletter.)
the Rosary.  As soon as possible, short meditations on the mysteries of the Rosary will be posted on the website to help us say it well.
On this last point, many of you have told us of your difficulties in saying the Rosary or in even finding it appealing.  It's a common difficulty:  even great saints, such as Saint Theresa of the Child Jesus, have been troubled by it.  God does not necessarily give a taste for the Rosary to everyone.  It's the same for prayer:  even if we don't feel anything, we have to believe that what we are doing is pleasing to God and Our Lady.  It's God who decides whether or not He will give us consolation. 
All the same, if we are in this situation we mustn't remain passive and accept this state of affairs without reacting.  First of all, we have to convince ourselves of the beauty and power of the Rosary.  For that, we should meditate on the fact that Our Lady would not have made this request at every apparition if it was not the case.  It can also be useful to re-read the Sister Lucia's letters (that of the 16th of September 1970 to Mother Martins or of the 26th of November 1970 to Father Pasquale) or the poem by Charles Péguy on the Rosary.
We should, above all, ask God and Our Lady for the grace to truly appreciate the Rosary.  God loves giving these graces, but He likes (or would like) that we ask Him for them, or even better, that we ask His Holy Mother, whom He instituted as the dispenser of all His graces.  Have we really asked Our Lady to give us the grace of loving the prayer which she asked of us with such insistence?  If we have not done so, then how can we be surprised that we don't like saying the Rosary?
We need humility to recognise that we are weak and to continually ask for, in our prayers, the graces we need.  For, as Our Lord said Himself:  "It is more blessed to give than to receive."  (Acts 20:35).  So then, ask with profound humility (regarding God we are eternal beggars);  by behaving in this way, we will offer Our Lord the joy of giving and a joy in proportion to the importance of our request.  To illustrate this reality, here is an extract from a letter that Saint Thomas More wrote to his daughter.
You ask me for money, my dear child, with too much timidity and hesitation.  Your father, as you know, is always ready to give you some, and all the more so since your letter merits it, and not just two Philip II staters [gold coin struck by Philip II of Macedonia and his successors] for each line, as Alexander paid the poet Cherilus, but, if my purse was the equal of my desire, two ounces of gold for every syllable …
Moreover, I send you just what you ask.  I would have added something, but if I like giving, I also very much like that my dearest daughter ask me kindly, as she knows how.  So hurry up and spend this money – I am sure that you will make good use of it.  The sooner you come back for more, the happier I will be. 
If it's like this for an earthly father, how infinitely more true is this disposition for our Heavenly Father.  We ask "with too much timidity and hesitation";  don't hesitate to demand a lot from Our Lord by the intermediary of Our Lady.  But how do we ask?  Here is a prayer written by a friend which can be said just before beginning a Rosary.
Blessed Virgin Mary,
To the three little shepherds of Fatima who asked who you were, you replied during your last apparition at Cova da Iria "I am Our Lady of the Rosary", thereby confirming the request made six times, at each of your six apparitions:  "Say the Rosary every day".
Please accept the homage that I owe to your solicitude for all the graces that you have obtained for me from your Son.
May my thoughts, my prayers, my intentions, my actions, my sentiments, be consecrated to you despite their imperfections and their poverty.

Teach me, Our Lady of the Rosary: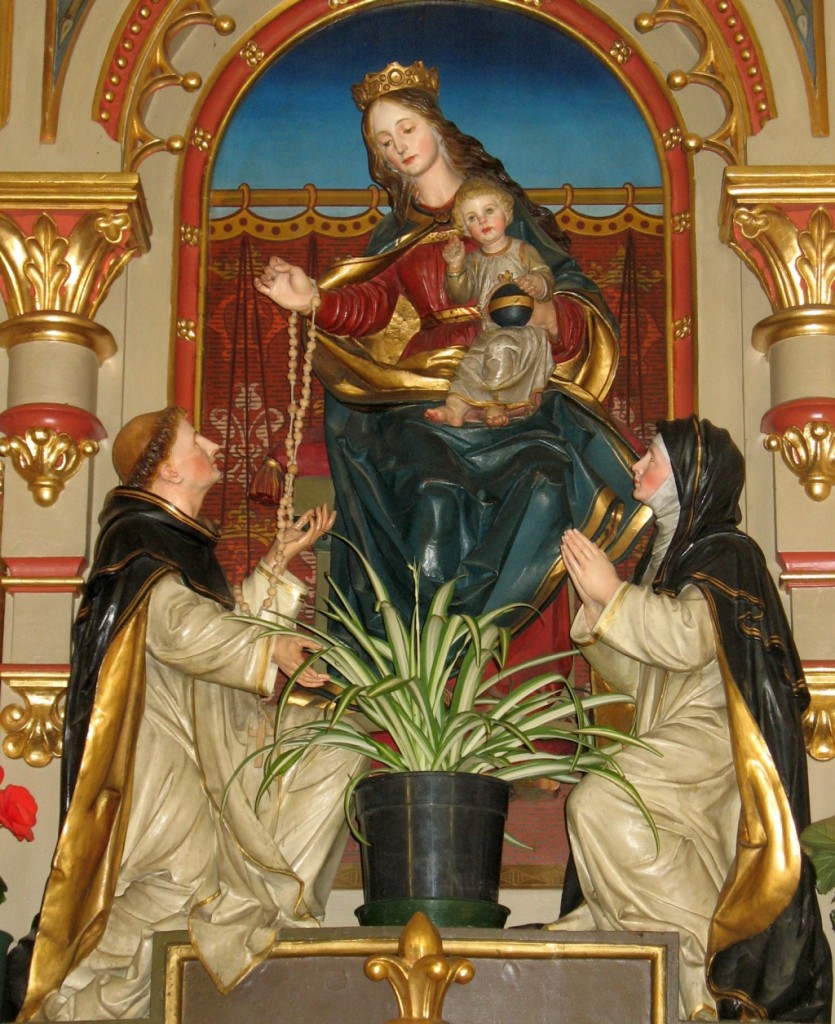 -to say the rosary well,
-to meditate each of its mysteries well,
-to deepen my insight into its meaning,
-to nourish my soul with it,
-to make it known to those who are unaware of its beauty and power,
-to make it be loved and to be faithful to it,
-to make it a shield against the Satan's assaults and temptations,
-to make of it an offensive weapon for the honour of Our Lord.
Be by my side while I say, one after the other, the Our Fathers and Hail Marys.
Add to my prayers whatever they are missing.  Give them the fervour they are robbed of by distractions.  May every word be the expression of my appreciation and gratitude towards you and your Divine Son from whom only you can obtain mercy.
Amen.
Don't forget to ask for graces for others.  Intentions are entrusted to us for this and can be found on the website, on the page Prayer Intentions.  We can, from time to time, offer our Rosary for all these intentions.  Also, don't forget to say thank you for all the graces we have received.
We wish you all a holy and happy new year, under the protection of the Immaculate Heart of Mary.
In union of prayer,
Yves de Lassus.
Cardinal Burke's letter
Cardinal Burke very kindly replied to the letter we sent last August supporting him in his initiative to request the Holy Father to consecrate Russia to the Immaculate Heart of Mary.  However, due to an oversight, and contrary to our announcement, the letter was not posted on the website.  This has now been done.  You can find it by clicking on Cardinal Burke's Reply.
Statements on the conflagration in the sky on the 25th of January 1938
Following the requests made in newsletters n°62 and n°63, we have already received about ten statements.  These can be seen on the page Statements concerning the night of the 25th to the 26th of January.  Statement n°6 is particularly interesting.
As not everybody knows someone who was able to observe the phenomenon, another line of enquiry would be to track down newspapers and magazines which appeared on the 26th of January 1938, or during the days that followed. Send us anything you might find.